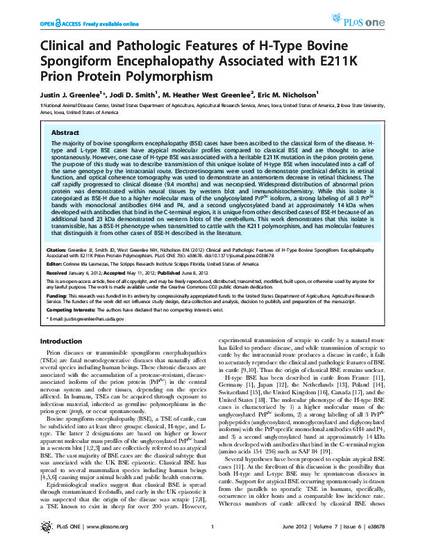 Article
Clinical and Pathologic Features of H-Type Bovine Spongiform Encephalopathy Associated with E211K Prion Protein Polymorphism
PLOS One
Publication Version
Published Version
Publication Date
6-8-2012
DOI
10.1371/journal.pone.0038678
Abstract
The majority of bovine spongiform encephalopathy (BSE) cases have been ascribed to the classical form of the disease. H-type and L-type BSE cases have atypical molecular profiles compared to classical BSE and are thought to arise spontaneously. However, one case of H-type BSE was associated with a heritable E211K mutation in the prion protein gene. The purpose of this study was to describe transmission of this unique isolate of H-type BSE when inoculated into a calf of the same genotype by the intracranial route. Electroretinograms were used to demonstrate preclinical deficits in retinal function, and optical coherence tomography was used to demonstrate an antemortem decrease in retinal thickness. The calf rapidly progressed to clinical disease (9.4 months) and was necropsied. Widespread distribution of abnormal prion protein was demonstrated within neural tissues by western blot and immunohistochemistry. While this isolate is categorized as BSE-H due to a higher molecular mass of the unglycosylated PrPSc isoform, a strong labeling of all 3 PrPSc bands with monoclonal antibodies 6H4 and P4, and a second unglycosylated band at approximately 14 kDa when developed with antibodies that bind in the C-terminal region, it is unique from other described cases of BSE-H because of an additional band 23 kDa demonstrated on western blots of the cerebellum. This work demonstrates that this isolate is transmissible, has a BSE-H phenotype when transmitted to cattle with the K211 polymorphism, and has molecular features that distinguish it from other cases of BSE-H described in the literature.
Rights
This is an open access article, free of all copyright, and may be freely reproduced, distributed, transmitted, modified, built upon, or otherwise used by anyone for any lawful purpose. The work is made available under the Creative Commons CC0 public domain dedication.
File Format
application/pdf
Citation Information
Justin J. Greenlee, Jodi D. Smith, M. Heather West Greenlee and Eric M. Nicholson. "Clinical and Pathologic Features of H-Type Bovine Spongiform Encephalopathy Associated with E211K Prion Protein Polymorphism"
PLOS One
Vol. 7 Iss. 6 (2012) p. e38678
Available at: http://works.bepress.com/jodi-smith/19/