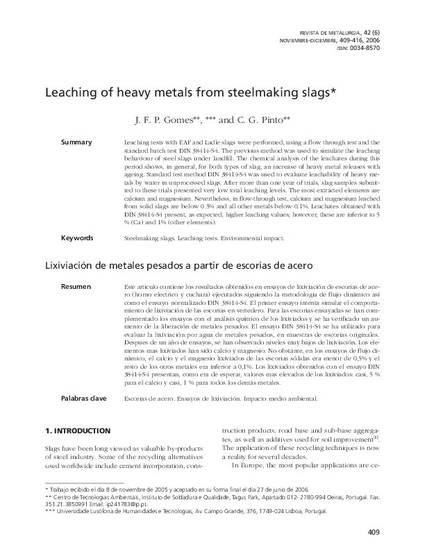 Article
Leaching of Heavy Metals from Steelmaking Slags
Revista Metalurgia Madrid (2006)
Abstract
Leaching tests with EAF and Ladle slags were performed, using a flow through test and the standard batch test DIN 38414-S4. The previous method was used to simulate the leaching behaviour of steel slags under landfill. The chemical analysis of the leachates during this period shows, in general, for both types of slag, an increase of heavy metal releases with ageing. Standard test method DIN 38414-S4 was used to evaluate leachability of heavy metals by water in unprocessed slags. After more than one year of trials, slag samples submitted to these trials presented very low total leaching levels. The most extracted elements are calcium and magnesium. Nevertheless, in flow-through test, calcium and magnesium leached from solid slags are below 0.5% and all other metals below 0.1 %. Leachates obtained with DIN 38414-S4 present, as expected, higher leaching values; however, these are inferior to 5% (Ca) and 1% (other elements).
Keywords
Leaching ; Slags ; Steel Production
Citation Information
João F Gomes. "Leaching of Heavy Metals from Steelmaking Slags"
Revista Metalurgia Madrid
Vol. 42 Iss. 6 (2006)
Available at: http://works.bepress.com/joao_gomes/8/