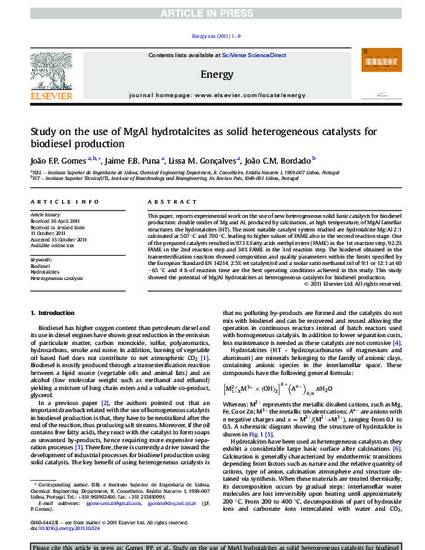 Article
Study on the use of MgAl hydrotalcites as solid heterogeneous catalysts for biodiesel production
Energy (2011)
Abstract
This paper, reports experimental work on the use of new heterogeneous solid basic catalysts for biodiesel production: double oxides of Mg and Al, produced by calcination, at high temperature, of MgAl lamellar structures, the hydrotalcites (HT). The most suitable catalyst system studied are hydrotalcite Mg:Al 2:1 calcinated at 507 ºC and 700 ºC, leading to higher values of FAME also in the second reaction stage. One of the prepared catalysts resulted in 97.1 % Fatty acids methyl esters (FAME) in the 1st reaction step, 92.2 % FAME in the 2nd reaction step and 34 % FAME in the 3rd reaction step. The biodiesel obtained in the transesterification reaction showed composition and quality parameters within the limits specified by the European Standard EN 14214. 2.5% wt catalyst/oil and a molar ratio methanol:oil of 9:1 or 12:1 at 60-65 ºC and 4h of reaction time are the best operating conditions achieved in this study. This study showed the potential of Mg/Al hydrotalcites as heterogeneous catalysts for biodiesel production.
Keywords
Biodiesel ; heterogeneous catalysts ; hydrotalcites
Publication Date
December, 2011
Citation Information
João F Gomes. "Study on the use of MgAl hydrotalcites as solid heterogeneous catalysts for biodiesel production"
Energy
(2011)
Available at: http://works.bepress.com/joao_gomes/49/