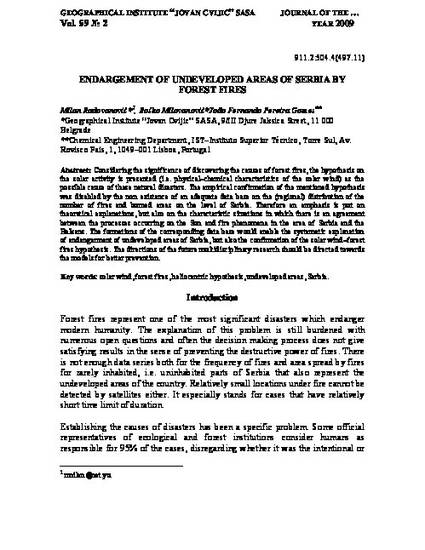 Article
Endargement of undeveloped areas of Serbia by forest fires
Journal of the Geogrphical Institute Jovan Cyijic Sasa (2009)
Abstract
Considering the significance of discovering the causes of forest fires, the hypothesis on the solar activity is presented (i.e. physical–chemical characteristics of the solar wind) as the possible cause of these natural disasters. The empirical confirmation of the mentioned hypothesis was disabled by the non existence of an adequate data base on the (regional) distribution of the number of fires and burned areas on the level of Serbia. Therefore an emphasis is put on theoretical explanations, but also on the characteristic situations in which there is an agreement between the processes occurring on the Sun and fire phenomena in the area of Serbia and the Balkans. The formations of the corresponding data base would enable the systematic explanation of endangerment of undeveloped areas of Serbia, but also the confirmation of the solar wind–forest fires hypothesis. The directions of the future multidisciplinary research should be directed towards the models for better prevention.
Keywords
Solar Wind,
Forest Fires,
Heliocentric Hypothesis,
Serbia
Citation Information
João F Gomes. "Endargement of undeveloped areas of Serbia by forest fires"
Journal of the Geogrphical Institute Jovan Cyijic Sasa
Vol. 59 Iss. 2 (2009)
Available at: http://works.bepress.com/joao_gomes/37/