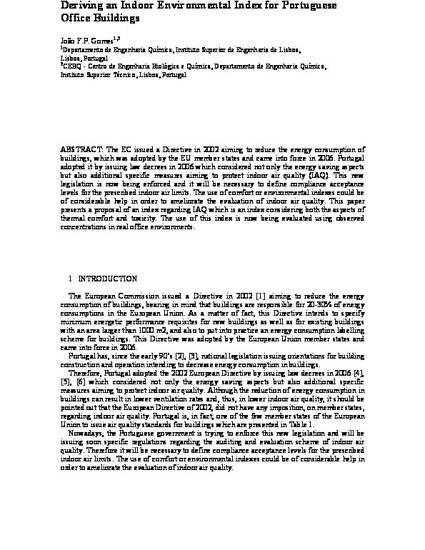 Presentation
DERIVING AN INDOOR ENVIRONMENTAL INDEX FOR PORTUGUESE OFFICE BUILDINGS
SB07 (2007)
Abstract
The EC issued a Directive in 2002 aiming to reduce the energy consumption of buildings, which was adopted by the EU member states and came into force in 2006. Portugal adopted it by issuing law decrees in 2006 which considered not only the energy saving aspects but also additional specific measures aiming to protect indoor air quality (IAQ). This new legislation is now being enforced and it will be necessary to define compliance acceptance levels for the prescribed indoor air limits. The use of comfort or environmental indexes could be of considerable help in order to ameliorate the evaluation of indoor air quality. This paper presents a proposal of an index regarding IAQ which is an index considering both the aspects of thermal comfort and toxicity. The use of this index is now being evaluated using observed concentrations in real office environments.
Keywords
Index,
Indoor Air Pollution
Citation Information
João F Gomes. "DERIVING AN INDOOR ENVIRONMENTAL INDEX FOR PORTUGUESE OFFICE BUILDINGS"
SB07
(2007)
Available at: http://works.bepress.com/joao_gomes/22/