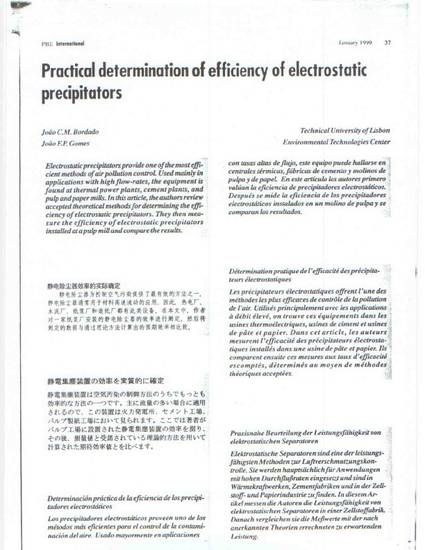 Article
PRACTICAL DETERMINATION OF EFFICIENCY OF ELECTROSTATIC PRECIPITATORS
Powder and Bulk Engineering International (1999)
Abstract
Electrostatic precipitators are one of the most efficient particulate pollution control equipments used mainly for the treatment of gaseous effluents at high flow rates. Consequently electrostatic precipitators are widely used in thermal power plants, cement plants and pulp mills. Apart from a high efficiency other advantages are related with the fact that this type of equipment has a considerable low payback time in industrial plants where the particulate recovered from the gases has commercial value and can be recycled within the industrial process itself or even sold to other industrial companies. Where sulphate (Kraft) pulp mills are concerned an electrostatic precipitator or a set of these equipments, is used to achieve treatment of waste gases from recovery boilers by collecting the load of particulate which is mainly formed of sodium sulphate, a chemical compound that is recycled back to the production process. This paper describes studies performed on this type of electrostatic precipitators and presents results on practical determinations of efficiency of equipments.
Keywords
Electrostatic precipitators,
Efficiency
Citation Information
João F Gomes. "PRACTICAL DETERMINATION OF EFFICIENCY OF ELECTROSTATIC PRECIPITATORS"
Powder and Bulk Engineering International
Vol. 2 Iss. 1 (1999)
Available at: http://works.bepress.com/joao_gomes/20/