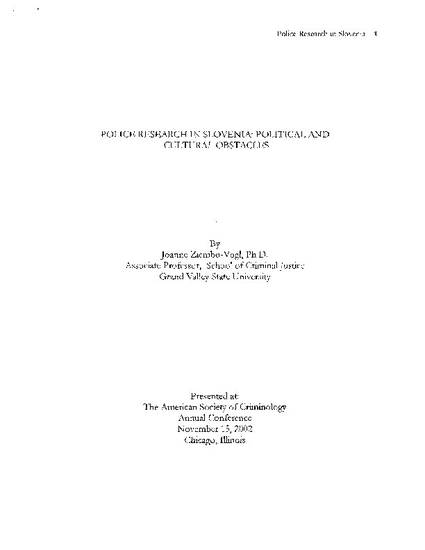 Presentation
Police Research in Slovenia: Political and Cultural Obstacles
The American Society of Criminology (2002)
Abstract
Appointed a Fulbright Scholar, the objective of my proposed Fulbright research was to examine the practice of community policing in Slovenia, to examine community policing within the broader context of the newly independent country's transition to democratic law enforcement -a transition from its former Yugoslav political history. Anticipating the unforeseen obstacles inherent when conducting international research, the planned methodology was modest in nature with hopes of setting an initial framework for more complex research in the future. Predominantly qualitative, methodology included field observation, interviews, and a random sample survey of officers from Slovenia's eleven police directorates. Instead, the resulting research consisted of a Ministry of the Interior approved, five-question, attitudinal survey of a Ministry approved group of officers from one of Ljubljana's two city police agencies. Highlighted in this paper are the political and cultural obstacles likely to be encountered when conducting police research in former socialist countries such as Slovenia. Although an independent country since its break from Yugoslavia, there existed a strong sense that the "old regime" still exists and shapes policing from beneath the surface. This socialist hold was evidenced to cause a degree of fear, confusion, and uneasiness in officers.
Keywords
Slovenia,
police research
Publication Date
November 15, 2002
Citation Information
Joanne Ziembo-Vogl. "Police Research in Slovenia: Political and Cultural Obstacles"
The American Society of Criminology
(2002)
Available at: http://works.bepress.com/joanne_ziembovogl/7/