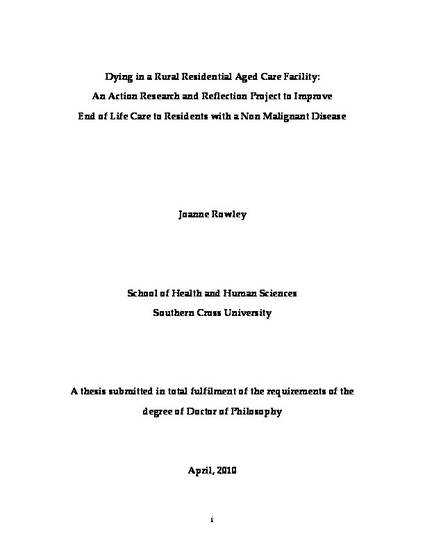 Thesis
Dying in a rural residential aged care facility: an action research and reflection project to improve end of life care to residents with a non-malignant disease
PhD thesis, Southern Cross University, Lismore, NSW
Publication Date
1-1-2010
Abstract
This qualitative research explored end of life care provided to people dying with a non malignant disease in two Australian rural, residential aged care facilities. Residential aged care facilities provide end of life care for many people dying from non malignant diseases. The illness trajectory in non malignant diseases can be difficult to predict and symptom management can be challenging. Further, as the Australian population ages, the demand for optimal end of life care for frail, older people is anticipated to increase. Therefore, this study aimed to explore issues as identified by nurses and relatives of residents dying from a non malignant disease in order to examine ways in which nurses can provide nursing care that maximises the likelihood of a good death, identify the barriers nurses perceive to prevent optimal end of life care to dying residents, and explore the relationships between nurses and relatives of the dying resident, with the intention of improving care. Following ethical clearance, 14 aged care staff overall within both facilities were recruited to the project. Participants included Registered Nurses, Enrolled Nurses, Assistants in Nursing and other aged care staff personnel, all of whom were in a carer relationship with a dying resident. In addition, eight relatives of dying residents were interviewed, using individual, face to face, semi structured interviews. Taylor's (2006) 13 step action research and reflection method was incorporated into five main phases, including foundation building, reflection on practice stories, identifying thematic concerns, action plan creation, implementation and critical reflection. In both facilities, group meetings were held weekly for up to 19 weeks. Data were gathered using combinations of reflective drawing, practice stories, interviews and surveys. Relatives' interview transcripts were incorporated into the nurses' group meetings, so that end of life care issues of importance to relatives were shared, with the intention of assisting the nurses to examine the nature of aged care nursing and relationships that occur with relatives of the dying resident. Thematic analysis was conducted and through group consensus, themes and subthemes emerged from the practice stories indicating aspects of end of life care requiring further improvement. Major thematic concerns were prioritised for action, which included considering the possibility of addressing staff debriefing and better pain management. Through collaborative processes, action plans were created, implemented and evaluated, with participants reporting varying degrees of success in attempting to improve these aspects of care. This project demonstrated that the delivery of end of life care to residents in these rural, residential aged care facilities was inconsistent and of varying quality. Grief and loss permeated aged care work and affected both staff and relatives of the dying resident. Some of the barriers identified in delivering effective end of life care included hierarchical structures, poor staff attitudes, doctors' prescribing practices, lack of communication within the team and limited palliative care knowledge and services. Poor pain management practices at end of life were related to numerous issues, including the demands of managing more complex conditions, a lack of implementation of evidence based recommendations, and staff knowledge deficits. Although this project highlighted care deficits within two specified Australian aged care facilities, literature supports the contention that issues exist nationally and internationally within other aged care facilities and systems, in relation to caring for people dying from non malignant causes. The failure to adequately address dying in older people is reflective of aged care industries, which are challenged to meet the increased complexity of delivering optimal end of life care. Further, when end of life care guidelines are available, they are not being enacted effectively. This action research and reflection project suggests that the enormity of these problems requires sustainable practice changes, which will embed and facilitate effective palliative care within aged care institutions. This project demonstrated that it is possible to establish a working relationship with aged care nurses, with no prior knowledge of action research or reflective processes, to influence end of life care nursing practices. The gains achieved in this action research and reflection project can be sustained in practice, if these specific aged care facilities continue to prioritise grief and loss issues, and implement a range of strategies to address pain management, such as standardised assessment tools, end of life clinical pathways, and ongoing audits and case reviews. Critical to the success of these initiatives is the support for staff, who deliver end of life care, to believe they have a voice and feel supported by their facilities, to constantly examine clinical practices and plan and implement strategies to improve care. The practical strategies generated and used in this project can be utilised in other aged care facilities by nurses, educators, managers and other health professionals, with whom they resonate.
Citation Information
Rowley, J 2010, 'Dying in a rural residential aged care facility: an action research and reflection project to improve end of life care to residents with a non-malignant disease ', PhD thesis, Southern Cross University, Lismore, NSW.
Copyright J Rowley 2010