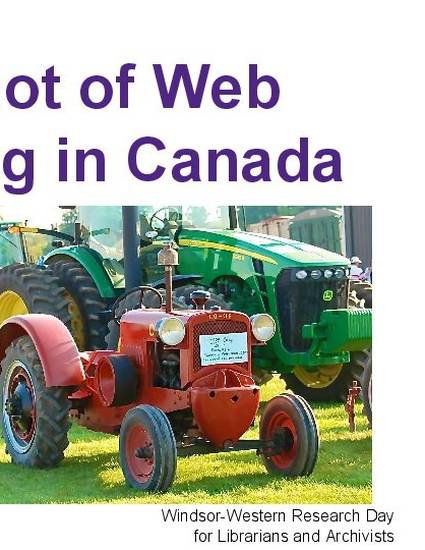 Presentation
Snapshot of Web harvesting in Canada
Windsor / Western Research Day LARSN (2015)
Abstract
The World Wide Web has radically changed the way we create and share information. Unlike paper, which can survive benign neglect for years, websites are fragile and ephemeral things, The scholarly with a web page having an estimated shelf-life of between 44 and 100 days. record has been disrupted by the move to digital and unique research may be available only in a web-based format. It is not merely that scholarly output is at risk, but that administrative, governmental, social, and political information may also be lost if not proactively preserved. Long-term preservation and access to frequently updated and rapidly changing pages is a challenge for libraries and archives that must be addressed. Planned and managed action is necessary to preserve web content. Web archiving is a planned action for the capture and managed custody of digital resources from the Web to guarantee access to information for future research.
Keywords
collection development,
web harvesting,
web archiving
Publication Date
March, 2015
Citation Information
Joanne Paterson. "Snapshot of Web harvesting in Canada"
Windsor / Western Research Day LARSN
(2015)
Available at: http://works.bepress.com/joanne_paterson/32/