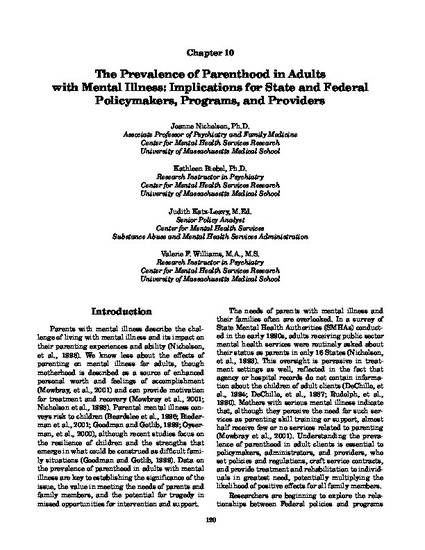 Article
The Prevalence of Parenthood in Adults with Mental Illness: Implications for State and Federal Policymakers, Programs, and Providers
Psychiatry Publications and Presentations
UMMS Affiliation
Department of Psychiatry; Clinical and Population Health Research; Center for Mental Health Services Research
Publication Date
1-1-2002
Document Type
Book Chapter
Subjects
Family Relations; Mental Disorders; Mentally Ill Persons; Child of Impaired Parents; Parenting; Parents
Source
Nicholson, J., Biebel, K., Williams, V.F., & Katz-Leavy, J. (2004) Prevalence of Parenthood in Adults with Mental Illness: Implications for State and Federal Policy, Programs, and Providers. In Center for Mental Health Services.
Mental Health, United States, 2002
. Manderscheid, R.W., & Henderson, M.J., eds. DHHS Pub No. (SMA) 3938. Rockville, Maryland: Substance Abuse and Mental Health Services Administration, Chapter 10, pp. 120-137.
Citation Information
Joanne Nicholson, Kathleen Biebel, Judith Katz-Leavy and Valerie Williams. "The Prevalence of Parenthood in Adults with Mental Illness: Implications for State and Federal Policymakers, Programs, and Providers" (2002)
Available at: http://works.bepress.com/joanne_nicholson1/28/