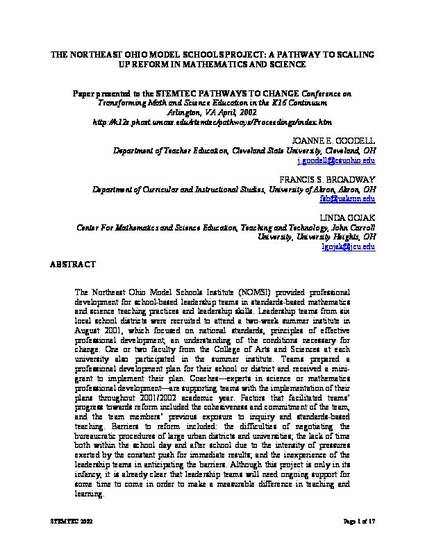 Presentation
The Northeast Ohio Model Schools Project: A Pathway To Scaling Up Reform In Mathematics And Science
Paper presented to the STEMTEC PATHWAYS TO CHANGE Conference on Transforming Math and Science Education in the K16 Continuum (2002)
Abstract
The Northeast Ohio Model Schools Institute (NOMSI) provided professional development for school-based leadership teams in standards-based mathematics and science teaching practices and leadership skills. Leadership teams from six local school districts were recruited to attend a two-week summer institute in August 2001, which focused on national standards, principles of effective professional development, an understanding of the conditions necessary for change. One or two faculty from the College of Arts and Sciences at each university also participated in the summer institute. Teams prepared a professional development plan for their school or district and received a mini-grant to implement their plan. Coaches—experts in science or mathematics professional development—are supporting teams with the implementation of their plans throughout 2001/2002 academic year. Factors that facilitated teams' progress towards reform included the cohesiveness and commitment of the team, and the team members' previous exposure to inquiry and standards-based teaching. Barriers to reform included: the difficulties of negotiating the bureaucratic procedures of large urban districts and universities; the lack of time both within the school day and after school due to the intensity of pressures exerted by the constant push for immediate results; and the inexperience of the leadership teams in anticipating the barriers. Although this project is only in its infancy, it is already clear that leadership teams will need ongoing support for some time to come in order to make a measurable difference in teaching and learning.
Keywords
Teacher leader,
professional development,
urban education
Publication Date
April, 2002
Citation Information
Joanne E Goodell, Francis S Broadway and Linda Gojak. "The Northeast Ohio Model Schools Project: A Pathway To Scaling Up Reform In Mathematics And Science"
Paper presented to the STEMTEC PATHWAYS TO CHANGE Conference on Transforming Math and Science Education in the K16 Continuum
(2002)
Available at: http://works.bepress.com/joanne_goodell/5/