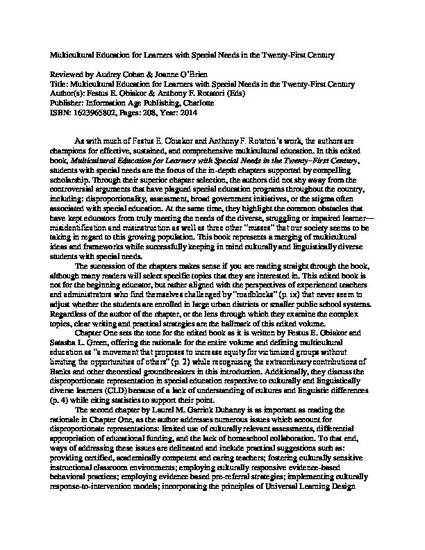 Article
Multicultural education for learners with special needs in the twenty-first century
Teachers College Record
Document Type
Book Review
Publication Date
9-4-2014
Abstract
As with much of Festus E. Obiakor and Anthony F. Rotatori's work, the authors are champions for effective, sustained, and comprehensive multicultural education. In this edited book, Multicultural Education for Learners with Special Needs in the Twenty–First Century, students with special needs are the focus of the in-depth chapters supported by compelling scholarship. Through their superior chapter selection, the authors did not shy away from the controversial arguments that have plagued special education programs throughout the country, including: disproportionality, assessment, broad government initiatives, or the stigma often associated with special education. At the same time, they highlight the common obstacles that have kept educators from truly meeting the needs of the diverse, struggling or impaired learner—misidentification and misinstruction as well as three other "misses" that our society seems to be taking in regard to this growing population. This book represents a merging of multicultural ideas and frameworks while successfully keeping in mind culturally and linguistically diverse students with special needs.
Citation Information
Audrey Cohan and Joanne O'Brien. "Multicultural education for learners with special needs in the twenty-first century"
Teachers College Record
(2014)
Available at: http://works.bepress.com/joanne-obrien/3/