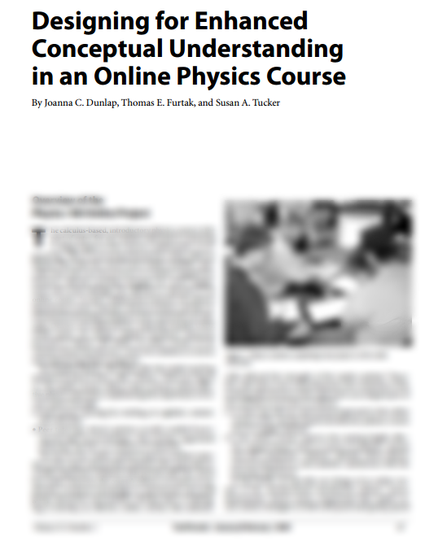 Article
Designing for Enhanced Conceptual Understanding in an Online Physics Course
ILT Faculty Publications
Publication Date
1-1-2009
Abstract
The calculus-based, introductory physics course is the port of entry for any student interested in pursuing a college degree in the sciences, mathematics, or engineering. There is increasing demand for online delivery options that make the course more widely available, especially those that use best practices in student engagement. However, effective teaching strategies for active engagement and social dialogue are difficult to represent in an online course. In joint collaboration between the physics department at the Colorado School of Mines and the instructional technology program at the University of Colorado, Denver, and supported by a federally-funded USDE FIPSE grant, the authors' project adapted beneficial classroom practices to "Physics 100 Online," an online version of their calculus-based introductory course for students in science and engineering degree programs. In this article, the authors describe their design of an online version of the calculus-based introductory physics course, demonstrate critical course components that exploit social context strategies in both self-paced and group-paced learning activities, and share the results of one study conducted to examine how the growth of online students' conceptual understanding of physics compares to the growth of on-campus students' conceptual understanding of physics.
Citation Information
Dunlap, J.C., Furtak, T.E., & Tucker, S.A. (2009). Designing for enhanced conceptual understanding in an online physics course. TechTrends, 53(1), 67-73.