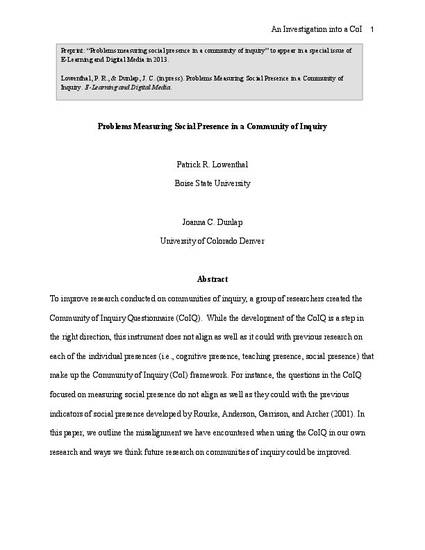 Article
Problems Measuring Social Presence in a Community of Inquiry
ILT Faculty Publications
Publication Date
1-1-2013
Abstract
To improve research conducted on communities of inquiry, a group of researchers created the Community of Inquiry Questionnaire (CoIQ). While the development of the CoIQ is a step in the right direction, this instrument does not align as well as it could with previous research on each of the individual presences (i.e., cognitive presence, teaching presence, social presence) that make up the Community of Inquiry (CoI) framework. For instance, the questions in the CoIQ focused on measuring social presence do not align as well as they could with the previous indicators of social presence developed by Rourke, Anderson, Garrison, and Archer (2001). In this paper, we outline the misalignment we have encountered when using the CoIQ in our own research and ways we think future research on communities of inquiry could be improved.
Citation Information
Lowenthal, P.R., & Dunlap, J.C. (2014). Problems measuring social presence in a com- munity of inquiry. E-Learning and Digital Media, 11(1), 20-31.