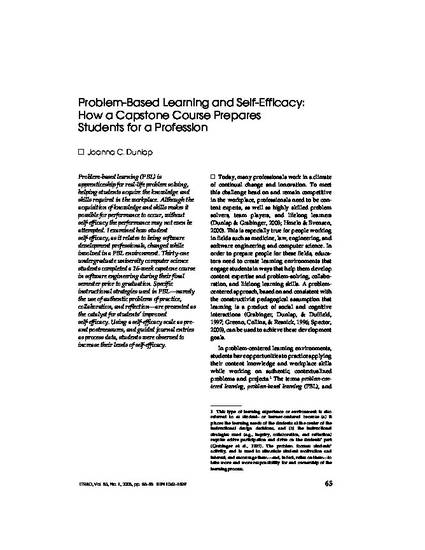 Article
Problem-Based Learning and Self-Efficacy: How a Capstone Course Prepares Students for a Profession
ILT Faculty Publications
Publication Date
1-1-2005
Abstract
Problem-based learning (PBL) is apprenticeship for real-life problem solving, helping students acquire the knowledge and skills required in the workplace. Although the acquisition of knowledge and skills makes it possible for performance to occur, without self-efficacy the performance may not even be attempted. I examined how student self-efficacy, as it relates to being software development professionals, changed while involved in a PBL environment. Thirty-one undergraduate university computer science students completed a 16-week capstone course in software engineering during their final semester prior to graduation. Specific instructional strategies used in PBL--namely the use of authentic problems of practice, collaboration, and reflection--are presented as the catalyst for students' improved self-efficacy. Using a self-efficacy scale as pre- and post-measures, and guided journal entries as process data, students were observed to increase their levels of self-efficacy.
Citation Information
Dunlap, J.C. (2005). Problem-based learning and self-efficacy: How a capstone course prepares students for a profession. Educational Technology Research and Develop- ment, 53(1), 65-85.