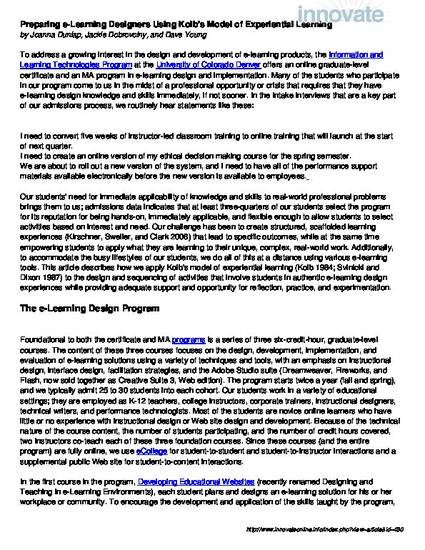 Article
Preparing e-Learning Designers Using Kolb's Model of Experiential Learning
ILT Faculty Publications
Publication Date
1-1-2008
Abstract
In this article, Joanna Dunlap, Jackie Dobrovolny, and David Young describe their approach to the design of a real-world learning experience that prepares online graduate students to work as e-learning designers and specialists. Using Kolb's model of experiential learning to support their instructional design decisions, Dunlap, Dobrovolny, and Young have created a series of online instructional-design courses in which students use a variety of e-learning technologies and tools to discuss instructional strategies and to provide support and feedback to each other on the e-learning products they design individually. This approach allows school and the real world to be integrated in an effective, albeit intense, instructional curriculum. Kolb's model helps focus instructor attention on online student engagement and satisfaction concerns by ensuring that the online learning activities are relevant and motivating. While this approach may be considered nontraditional, it empowers students, even those without advanced technical skills, to develop high quality e-learning products in relatively short order.
Citation Information
Dunlap, J.C., Dobrovolny, J.L., & Young, D.L. (2008). Preparing eLearning designers using Kolb's model of experiential learning. Innovate, 4(4).