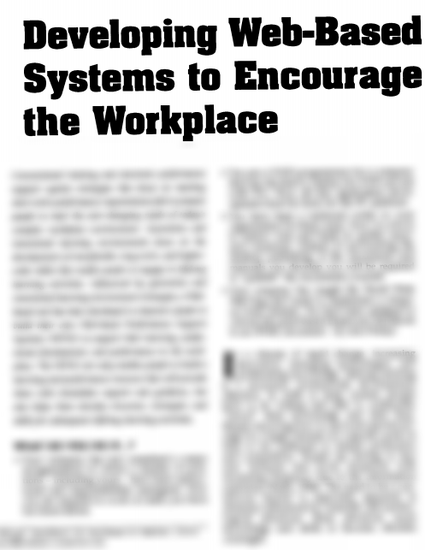 Article
Developing Web-Based Performance Support Systems to Encourage Lifelong Learning in the Workplace
ILT Faculty Publications
Publication Date
1-1-1999
Abstract
Conventional training and electronic performance support system strategies, which focus on meeting short-term performance requirements, fail to prepare people to meet the ever-changing needs of today's complex workplace environment. Generative and intentional learning environments focus on the development of transferable, long-term, and higher-order skills that enable people to engage in lifelong learning activities. Influenced by generative and intentional learning environment strategies, a Web-based tool has been developed to empower people to build their own Web-based Performance Support Systems (WPSS) to support their learning, professional development, and performance in the workplace. Enabling people to develop their own WPSS accomplishes two goals: (1) people learn about the domain while they are locating, evaluating, and organizing resources to support their work activities and/or their lifelong learning activities; and (2) once the WPSS is completed it can be used to support performance and further professional development while working in that domain. In this way, the WPSS not only enables people to build a learning and performance resource that will provide them with immediate support and guidance, but also helps them develop structure, strategies, and skills for subsequent lifelong learning activities.
Citation Information
Dunlap, J.C. (1999). Developing Web-based performance support systems to encour- age lifelong learning in the workplace. WebNet Journal: Internet Technologies, Ap- plications & Issues, 1(2), 40-48.