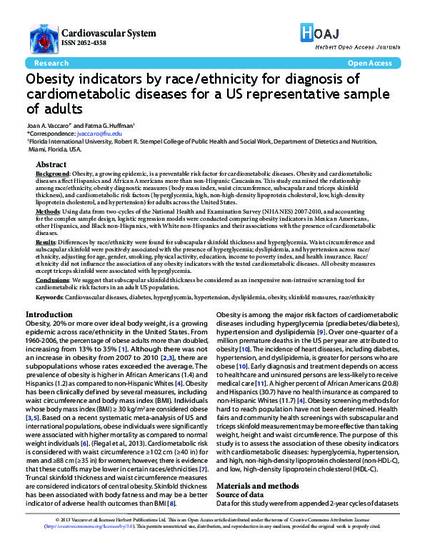 Article
Obesity Indicators by Race/Ethnicity for Diagnosis of Cardiometabolic Diseases for a US Representative Sample of Adults
Department of Dietetics and Nutrition
Date of this Version
4-23-2013
Abstract
Background: Obesity, a growing epidemic, is a preventable risk factor for cardiometabolic diseases. Obesity and cardiometabolic diseases affect Hispanics and African Americans more than non-Hispanic Caucasians. This study examined the relationship among race/ethnicity, obesity diagnostic measures (body mass index, waist circumference, subscapular and triceps skinfold thickness), and cardiometabolic risk factors (hyperglycemia, high, non-high-density lipoprotein cholesterol, low, high-density lipoprotein cholesterol, and hypertension) for adults across the United States.
Methods: Using data from two-cycles of the National Health and Examination Survey (NHANES) 2007-2010, and accounting for the complex sample design, logistic regression models were conducted comparing obesity indicators in Mexican Americans, other Hispanics, and Black non-Hispanics, with White non-Hispanics and their associations with the presence of cardiometabolic diseases.
Results: Differences by race/ethnicity were found for subscapular skinfold thickness and hyperglycemia. Waist circumference and subscapular skinfold were positively associated with the presence of hyperglycemia; dyslipidemia, and hypertension across race/ ethnicity, adjusting for age, gender, smoking, physical activity, education, income to poverty index, and health insurance. Race/ ethnicity did not influence the association of any obesity indicators with the tested cardiometabolic diseases. All obesity measures except triceps skinfold were associated with hyperglycemia.
Conclusions: We suggest that subscapular skinfold thickness be considered as an inexpensive non-intrusive screening tool for cardiometabolic risk factors in an adult US population
Citation Information
Joan A. Vaccaro and Fatma G. Huffman. "Obesity Indicators by Race/Ethnicity for Diagnosis of Cardiometabolic Diseases for a US Representative Sample of Adults" (2013)
Available at: http://works.bepress.com/joan_vaccaro/5/