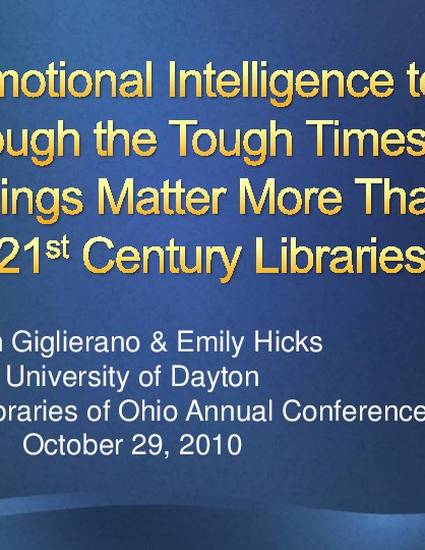 Presentation
Using Emotional Intelligence to Get Through the Tough Times: Why Feelings Matter More Than Ever to 21st Century Libraries
Academic Libraries of Ohio Annual Conference
Document Type
Presentation
Presentation Date
10-29-2010
Conference Location
Columbus, OH
Abstract
During times of tight resources, cultivating the emotional intelligence (EI) of employees at all levels, in all areas of the library, can be a way to maintain service quality, reduce stress, and cope with change. Emotional intelligence includes characteristics such as self-awareness, adaptability, empathy, ability to work collaboratively, and communication skills. While the concept of EI has been a standard component of leadership development and management literature for almost two decades, relatively little research has been done on its applicability in libraries. Recent studies of library job ads have found demand for EI competencies, though they are seldom labeled as such. Emotional intelligence is just as important for existing staff as it is for new hires, since it significantly affects customer service, team effectiveness, and communication within the organization. This presentation will discuss EI from both a public services and a management perspective, and will offer suggestions on measuring and developing these less tangible, but vitally important, "soft" skills.
Citation Information
Joan Giglierano and Emily A. Hicks. "Using Emotional Intelligence to Get Through the Tough Times: Why Feelings Matter More Than Ever to 21st Century Libraries"
Academic Libraries of Ohio Annual Conference
(2010)
Available at: http://works.bepress.com/joan_plungis/6/