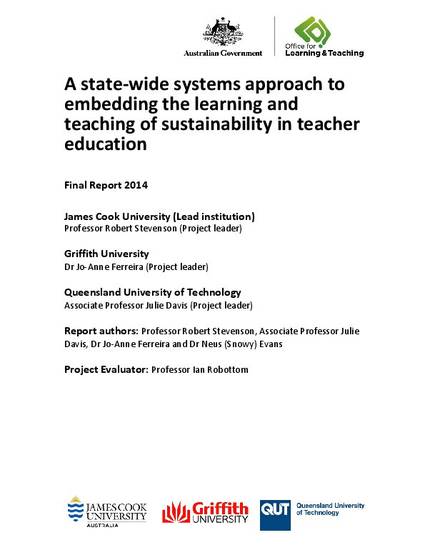 Other
A state-wide systems approach to embedding the learning and teaching of sustainability in teacher education: final report 2014
School of Education
Publication Date
1-1-2014
Abstract
Education systems have a key role to play in preparing future citizens to engage in sustainable living practices and help create a more sustainable world. Many schools throughout Australia have begun to develop whole-school approaches to sustainability education that are supported by national and state policies and curriculum frameworks. Preservice teacher education, however, lags behind in building the capacity of new teachers to initiate and implement such approaches (ARIES, 2010). This proposed project seeks to develop a state-wide systems approach to embedding Education for Sustainability (EfS) in teacher education that is aligned with the Australian National Curriculum and the aspirations for EfS in the Melbourne Declaration and other national documents. Representatives from all teacher education institutions and other agents of change in the Queensland education system will be engaged in a multilevel systems approach, involving collaboration at the state, institutional and course levels, to develop curriculum practices that reflect a shared vision of EfS.
Citation Information
Stevenson, R, Ferreira, J, Davis, J & Evans, N 2014, A state-wide systems approach to embedding the learning and teaching of sustainability in teacher education, Office for Teaching & Learning, Sydney, NSW. ISBN: 9781743613337 .