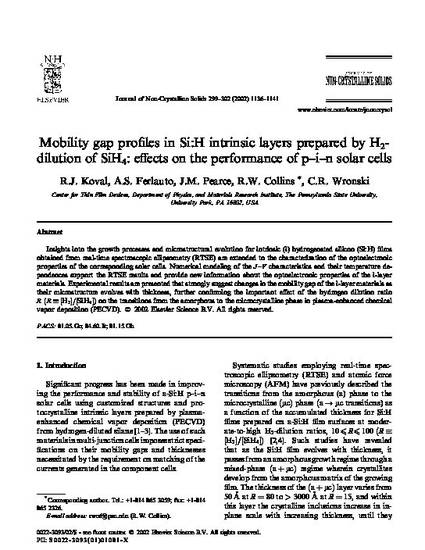 Article
Mobility Gap Profiles in Si:H Intrinsic Layers Prepared by H2 Dilution of SiH4: Effects on the performance of p-i-n Solar Cells
Journal of Non-Crystalline Solids (2002)
Abstract
Insights into the growth processes and microstructural evolution for intrinsic (i) hydrogenated silicon (Si:H) films obtained from real-time spectroscopic ellipsometry (RTSE) are extended to the characterization of the optoelectronic properties of the corresponding solar cells. Numerical modeling of the J–V characteristics and their temperature dependences support the RTSE results and provide new information about the optoelectronic properties of the i-layer materials. Experimental results are presented that strongly suggest changes in the mobility gap of the i-layer materials as their microstructure evolves with thickness, further confirming the important effect of the hydrogen dilution ratio Full-size image (<1 >K) on the transitions from the amorphous to the microcrystalline phase in plasma-enhanced chemical vapor deposition (PECVD).
Publication Date
January 17, 2002
Citation Information
R. J. Koval, A. S. Ferlauto, Joshua M. Pearce, R. W. Collins, et al.. "Mobility Gap Profiles in Si:H Intrinsic Layers Prepared by H2 Dilution of SiH4: Effects on the performance of p-i-n Solar Cells"
Journal of Non-Crystalline Solids
(2002)
Available at: http://works.bepress.com/jmpearce/76/