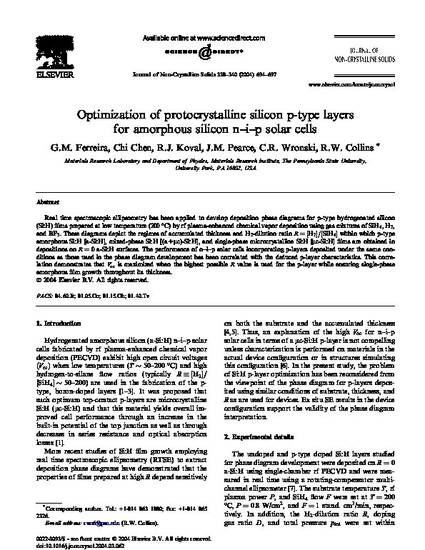 Article
Optimization of Protocrystalline Silicon p-Type Layers for Amorphous Silicon n-i-p Solar Cells
Journal of Non-Crystalline Solids (2004)
Abstract
Real time spectroscopic ellipsometry has been applied to develop deposition phase diagrams for p-type hydrogenated silicon (Si:H) films prepared at low temperature (200 °C) by rf plasma-enhanced chemical vapor deposition using gas mixtures of SiH4, H2, and BF3. These diagrams depict the regimes of accumulated thickness and H2-dilution ratio R=[H2]/[SiH4] within which p-type amorphous Si:H [a-Si:H], mixed-phase Si:H [(a + μc)-Si:H], and single-phase microcrystalline Si:H [μc-Si:H] films are obtained in depositions on R=0 a-Si:H surfaces. The performance of n–i–p solar cells incorporating p-layers deposited under the same conditions as those used in the phase diagram development has been correlated with the deduced p-layer characteristics. This correlation demonstrates that Voc is maximized when the highest possible R value is used for the p-layer while ensuring single-phase amorphous film growth throughout its thickness.
Publication Date
May 10, 2004
Citation Information
G. M. Ferreira, Chi Chen, R. J. Koval, Joshua M. Pearce, et al.. "Optimization of Protocrystalline Silicon p-Type Layers for Amorphous Silicon n-i-p Solar Cells"
Journal of Non-Crystalline Solids
(2004)
Available at: http://works.bepress.com/jmpearce/73/