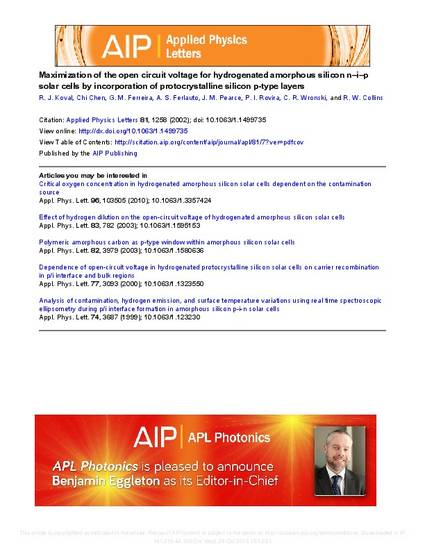 Article
Maximization of the Open Circuit Voltage for Hydrogenated Amorphous Silicon n–i–p Solar Cells by Incorporation of Protocrystalline Silicon P-Type Layers
Applied Physics Letters (2002)
Abstract
In studies of hydrogenated amorphous silicon(a-Si:H) n–i–psolar cells fabricated by rf plasma-enhanced chemical vapor deposition (PECVD), we have found that the maximum open circuit voltage (Voc) is obtained by incorporating p-type doped Si:H layers that are protocrystalline in nature. Specifically, these optimum p layers are prepared by PECVD in the a-Si:H growth regime using the maximum hydrogen-to-silane flow ratio possible without crossing the thickness-dependent transition into the mixed-phase (amorphous+microcrystalline) growth regime for the ∼200 Å p-layer thickness. The strong dependence of the p-layer phase and solar cell Voc on the underlying i-layer phase also confirms the protocrystalline nature of the optimum Si:H p layer.
Publication Date
August 12, 2002
Citation Information
R. J. Koval, Chi Chen, G. M. Ferreira, A. S. Ferlauto, et al.. "Maximization of the Open Circuit Voltage for Hydrogenated Amorphous Silicon n–i–p Solar Cells by Incorporation of Protocrystalline Silicon P-Type Layers"
Applied Physics Letters
Vol. 81 Iss. 7 (2002)
Available at: http://works.bepress.com/jmpearce/60/