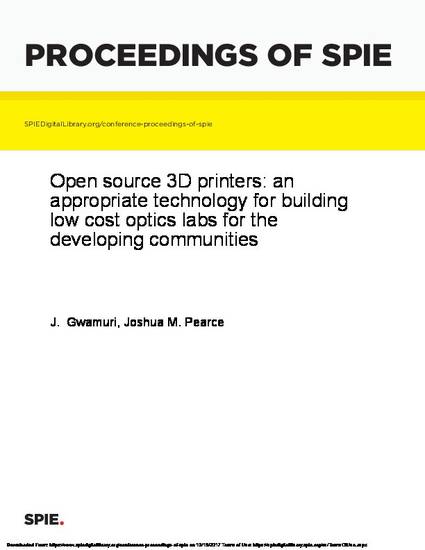 Article
Open source 3D printers: an appropriate technology for building low cost optics labs for the developing communities
Proceedings of SPIE
Publication Date
8-16-2017
Abstract
The recent introduction of RepRap (self-replicating rapid prototyper) 3-D printers and the resultant open source technological improvements have resulted in affordable 3-D printing, enabling low-cost distributed manufacturing for individuals. This development and others such as the rise of open source-appropriate technology (OSAT) and solar powered 3-D printing are moving 3-D printing from an industry based technology to one that could be used in the developing world for sustainable development. In this paper, we explore some specific technological improvements and how distributed manufacturing with open-source 3-D printing can be used to provide open-source 3-D printable optics components for developing world communities through the ability to print less expensive and customized products. This paper presents an open-source low cost optical equipment library which enables relatively easily adapted customizable designs with the potential of changing the way optics is taught in resource constraint communities. The study shows that this method of scientific hardware development has a potential to enables a much broader audience to participate in optical experimentation both as research and teaching platforms. Conclusions on the technical viability of 3-D printing to assist in development and recommendations on how developing communities can fully exploit this technology to improve the learning of optics through hands-on methods have been outlined.
Citation Information
Jephias Gwamuri and Joshua M. Pearce. "Open source 3D printers: an appropriate technology for building low cost optics labs for the developing communities"
Proceedings of SPIE
Vol. 10452 (2017)
Available at: http://works.bepress.com/jmpearce/166/