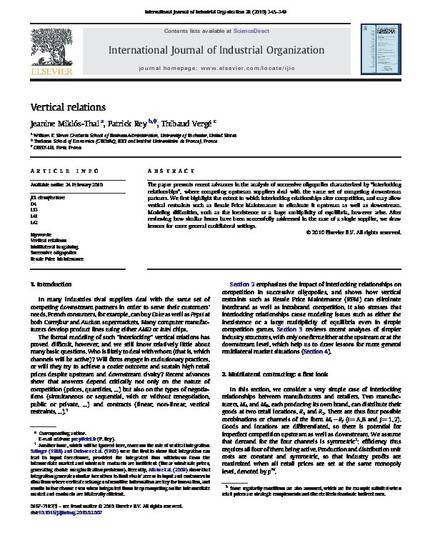 Article
Vertical Relations
International Journal of Industrial Oganization (Proceedings of the 2009 EARIE meeting) (2010)
Abstract
The paper presents recent advances in the analysis of successive oligopolies characterized by interlocking relationships, where competing upstream suppliers deal with the same set of competing downstream partners. We first highlight the extent to which interlocking relationships alter competition, and may allow vertical restraints such as Resale Price Maintenance to eliminate it upstream as well as downstream. Modeling difficulties, such as the inexistence or a large multiplicity of equilibria, however arise. After reviewing how similar issues have been successfully addressed in the case of a single supplier, we draw lessons for more general multilateral settings.
Citation Information
Jeanine Miklos-Thal, Patrick Rey and Thibaud Verge. "Vertical Relations"
International Journal of Industrial Oganization (Proceedings of the 2009 EARIE meeting)
Vol. 28 Iss. 4 (2010)
Available at: http://works.bepress.com/jmiklosthal/9/