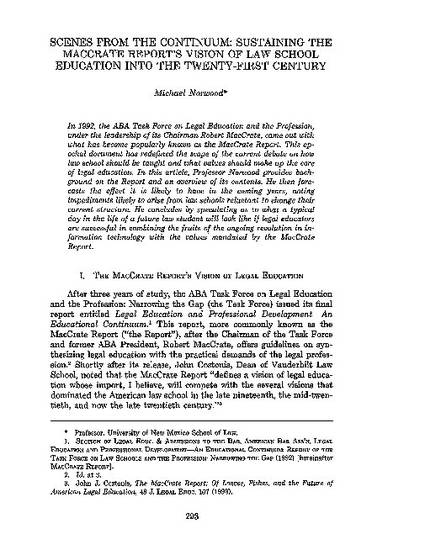 Article
Scenes from the Continuum: Sustaining the MacCrate Report's Vision of Legal Education into the Twenty-First Century
Wake Forest Law Review
Publication Date
1-1-1995
Abstract
In 1992, the ABA Task Force on Legal Education and the Profession, under the leadership of its Chairman Robert MacCrate, came out with what has become popularly known as the MacCrate Report. This epochal document has redefined the scope of the current debate on how law school should be taught and what values should make up the core of legal education. In this article, Professor Norwood provides background on the Report and an overview of its contents. He then forecasts the effect it is likely to have in the coming years, noting impediments likely to arise from law schools reluctant to change their current structure. He concludes by speculating as to what a typical day in the life of a future law student will look like if legal educators are successful in combining the fruits of the ongoing revolution in information technology with the values mandated by the MacCrate Report.
Citation Information
J. Michael Norwood. "Scenes from the Continuum: Sustaining the MacCrate Report's Vision of Legal Education into the Twenty-First Century"
Wake Forest Law Review
Vol. 30 (1995) p. 293
Available at: http://works.bepress.com/jm-norwood/1/