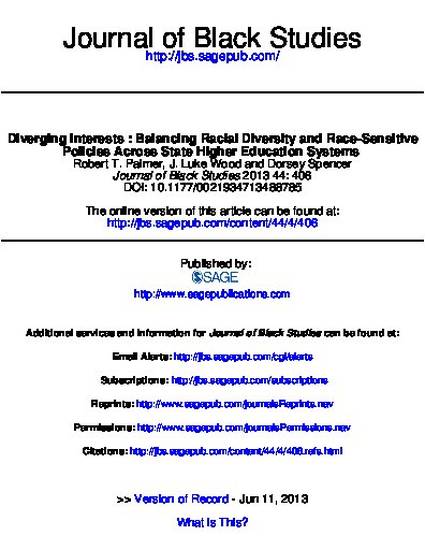 Article
Diverging interests: Balancing racial diversity and race-sensitive policies across state higher education systems
Journal of Black Studies (2013)
Abstract
The United States has sought to racially diversify its public colleges since 1964. Laws have been implemented and court challenges have occurred to facilitate the racial diversification of public universities. Racially diversifying higher education is particularly important for states that have a desegregation agreement with Office of Civil Rights (OCR) for operating policies traceable to de jure segregation. Although many states have used affirmative action to diversify their colleges, as these policies continue to be attacked and prohibited, colleges are abandoning race-sensitive policies to foster diversity. This article explains these diverging issues and offers recommendations for universities that are legally able to use affirmative action to diversify their campuses, but are apprehensive about doing so because of litigation concerns.
Citation Information
Robert T. Palmer, PhD, J. Luke Wood, PhD and Dorsey Spencer. "Diverging interests: Balancing racial diversity and race-sensitive policies across state higher education systems"
Journal of Black Studies
(2013)
Available at: http://works.bepress.com/jluke_wood/57/