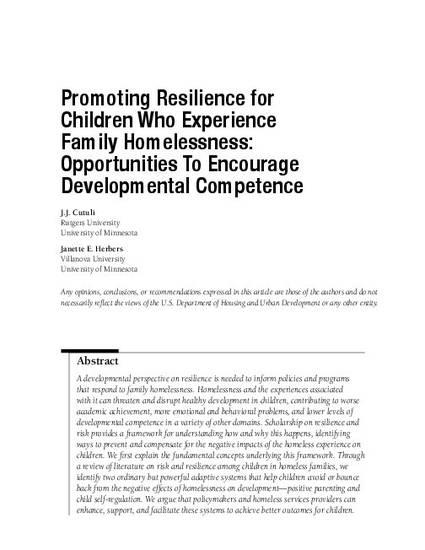 Article
Promoting Resilience for Children Who Experience Family Homelessness: Opportunities To Encourage Developmental Competence
Cityscape (2014)
Abstract
A developmental perspective on resilience is needed to inform policies and programs that respond to family homelessness. Homelessness and the experiences associated with it can threaten and disrupt healthy development in children, contributing to worse academic achievement, more emotional and behavioral problems, and lower levels of developmental competence in a variety of other domains. Scholarship on resilience and risk provides a framework for understanding how and why this happens, identifying ways to prevent and compensate for the negative impacts of the homeless experience on children. We first explain the fundamental concepts underlying this framework. Through a review of literature on risk and resilience among children in homeless families, we identify two ordinary but powerful adaptive systems that help children avoid or bounce back from the negative effects of homelessness on development—positive parenting and child self-regulation. We argue that policymakers and homeless services providers can enhance, support, and facilitate these systems to achieve better outcomes for children.
Keywords
Family homelessness; Resilience; Development
Citation Information
J. J. Cutuli and Janette E Herbers. "Promoting Resilience for Children Who Experience Family Homelessness: Opportunities To Encourage Developmental Competence"
Cityscape
Vol. 16 Iss. 1 (2014)
Available at: http://works.bepress.com/jj_cutuli/19/