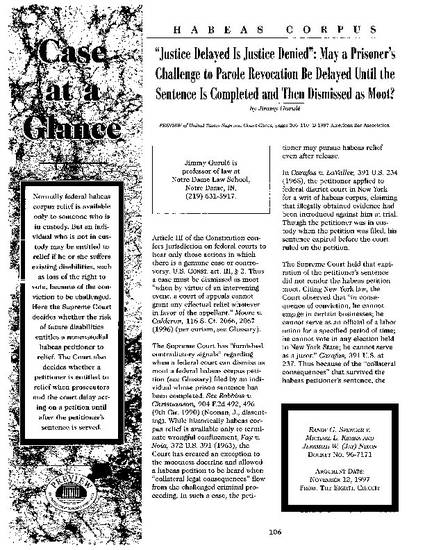 Article
Justice Delayed is Justice Denied: May a Prisoner's Challenge to Parole Revocation Be Delayed Until the Sentence is Completed and then Dismissed as Moot?
Journal Articles
Publication Date
1-1-1997
Publication Information
1997-1998 Preview U.S. Sup. Ct. Cas. 106 (1997-1998)
Abstract
A preview of Spencer v. Kemna, a 1997 Supreme Court case where a prison inmate challenged the revocation of his parole by the state of Missouri. This case is significant because the inmate initiated his challenge while in prison and continued it after he had served his sentence and was released. Substantial confusion exists in case law regarding whether such a challenge would be considered moot after the inmate had completed serving his or her sentence. At issue is if the "collateral consequences" rule applies to challenges against parole revocations. The Court has ruled that challenges by individuals against their criminal convictions cannot be considered moot after their sentences have expired because the collateral consequences of their convictions, such as denial of their ability to engage in businesses or vote continue to affect them after they have served their sentences. However, it has not given a clear ruling on whether the collateral consequences rule applies to challenges against parole revocations. The lack of clarity on this issue raises a number of thorny questions that must be addressed by the Court in this case.
Citation Information
Jimmy Gurule. "Justice Delayed is Justice Denied: May a Prisoner's Challenge to Parole Revocation Be Delayed Until the Sentence is Completed and then Dismissed as Moot?" (1997)
Available at: http://works.bepress.com/jimmy_gurule/8/