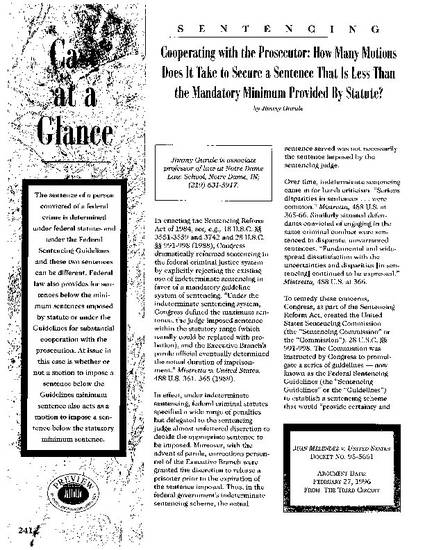 Article
Cooperating with the Prosecutor: How Many Motions Does it Take to Secure a Sentence That is Less Than the Mandatory Minimum Provided by Statute?
Journal Articles
Publication Date
1-1-1996
Publication Information
1995-1996 Preview U.S. Sup. Ct. Cas. 241 (1995-1996)
Abstract
A preview of Melendez v. United States, a 1996 Supreme Court case in which a convicted cocaine dealer appealed his mandatory 10 year sentence under the federal statutes on the grounds that he had cooperated with the prosecutor. While the United States Congress has authorized courts to impose sentences below the mandatory minimum set by the statutes and the Federal Sentencing Guidelines for defendants who provide substantial cooperation with the prosecution, courts can only do so at the request of the prosecutor. At issue in this case, where the prosecutor requested a sentence lower than the Guidelines minimum but not lower than that of the statutes, is if a motion to impose a sentence below the Guidelines minimum also acts as a motion to impose a sentence below statutory minimum. Resolving this dilemma is critical to ensuring that the Guidelines are applied in a fair and even handed manner. It is anticipated that the Supreme Court's decision in this case will bring resolution to the matter.
Citation Information
Jimmy Gurule. "Cooperating with the Prosecutor: How Many Motions Does it Take to Secure a Sentence That is Less Than the Mandatory Minimum Provided by Statute?" (1996)
Available at: http://works.bepress.com/jimmy_gurule/11/