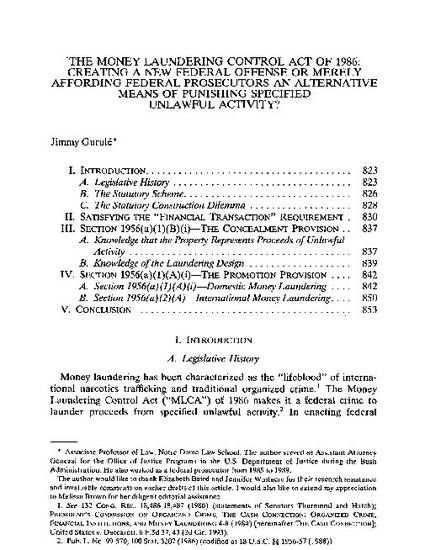 Article
The Money Laundering Control Act of 1986: Creating a New Federal Offense or Merely Affording Federal Prosecutors an Alternative Means of Punishing Specified Unlawful Activity?
Journal Articles
Publication Date
1-1-1995
Publication Information
32 Am. Crim. L. Rev. 823 (1994-1995)
Abstract
The purpose of the Money Laundering Control Act of 1986 was to make the hiding and reinvestment of illegal profit made from a criminal enterprise into a new federal offense. The act targets conduct that occurs after the underlying crime. It is not intended to be an alternative means of punishing the crime itself. Courts must closely adhere to this legislative intent if they seek to properly and consistently apply the law. They must be aware of several key aspects of the law: 1) The financial transaction requirement under section 1956(c)(3) of the act includes the transportation of proceeds from drug sales and use of money from illegal drug sales to pay for drugs. 2) The concealment provision under section 1956(a)(1)(B)(i) requires federal prosecutors to produce evidence showing that the proceeds come from illegal activity and that the defendant intended to launder money. 3) Section 1956(a)(1)(A)(i) of the act targets only activities that involve the use of proceeds to promote unlawful activities. 4) Section 1956(a)(2)(A) concerns international money laundering only.
Citation Information
Jimmy Gurule. "The Money Laundering Control Act of 1986: Creating a New Federal Offense or Merely Affording Federal Prosecutors an Alternative Means of Punishing Specified Unlawful Activity?" (1995)
Available at: http://works.bepress.com/jimmy_gurule/1/