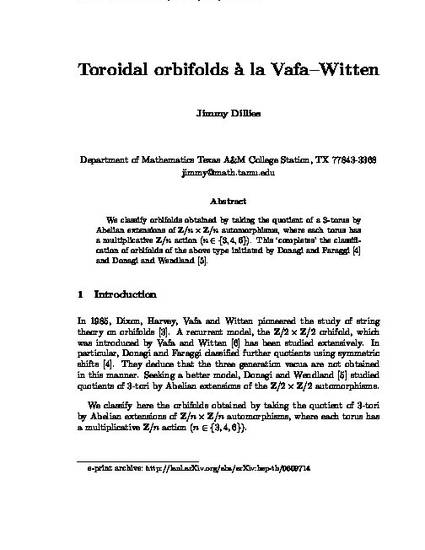 Article
Toroidal orbifolds `a la Vafa-Witten
Advances in Theoretical and Mathematical Physics (2007)
Abstract
We classify orbifolds obtained by taking the quotient of a three tori by abelian extensions of Z/n x Z/n automorphisms, where each torus has a multiplicative Z/n action (n=3,4 or 6). This 'completes' the classification of orbifolds of the above type initiated by Donagi and Faraggi (hep-th/0403272) and, Donagi and Wendland in the cases n=2.
Keywords
Algebraic geometry,
High energy physics theory
DOI
10.4310/ATMP.2007.v11.n4.a5
Citation Information
Jimmy Dillies. "Toroidal orbifolds `a la Vafa-Witten"
Advances in Theoretical and Mathematical Physics
11.4 (2007).
doi:10.4310/ATMP.2007.v11.n4.a5
source:http://arxiv.org/abs/math/0609714v1