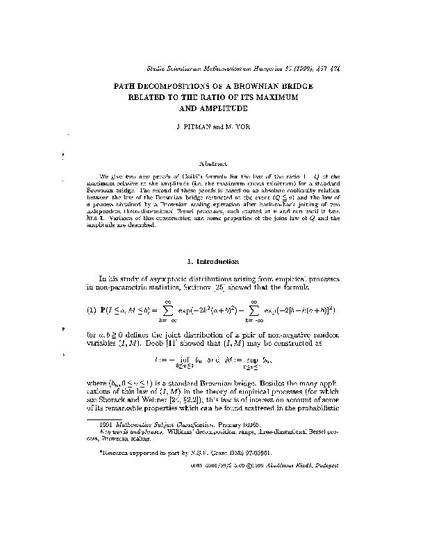 Article
Path decompositions of a Brownian bridge related to the ratio of its maximum and amplitude
Studia Sci. Math. Hungar. (1999)
Abstract
We give two new proofs of Csaki's formula for the law of the ratio 1-Q of the maximum relative to the amplitude (i.e. the maximum minus minimum) for a standard Brownian bridge. The second of these proofs is based on an absolute continuity relation between the law of the Brownian bridge restricted to the event (Q < v) and the law of a process obtained by a Brownian scaling operation after back-to back joining of two independent three-dimensional Bessel processes, each started at v and run until it first hits 1. Variants of this construction and some properties of the joint law of Q and the amplitude are described.
Keywords
path decomposition,
Brownian bridge,
maximum,
amplitude
Citation Information
Jim Pitman and Marc Yor. "Path decompositions of a Brownian bridge related to the ratio of its maximum and amplitude"
Studia Sci. Math. Hungar.
Vol. 35 Iss. 520 (1999)
Available at: http://works.bepress.com/jim_pitman/6/