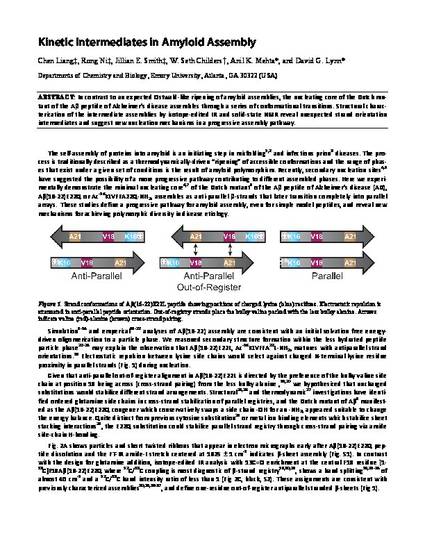 Article
Kinetic intermediates in amyloid assembly
Journal of the American Chemical Society
Article Version
Post-print
Publication Date
1-1-2014
Abstract
In contrast to an expected Ostwald-like ripening of amyloid assemblies, the nucleating core of the Dutch mutant of the Aβ peptide of Alzheimer's disease assembles through a series of conformational transitions. Structural characterization of the intermediate assemblies by isotope-edited IR and solid-state NMR reveals unexpected strand orientation intermediates and suggests new nucleation mechanisms in a progressive assembly pathway.
Published Citation
Liang, C. ‡, Ni, R. ‡, Smith, J. E. ‡, Childers, W. S., Mehta, A. K., Lynn, D. G. Kinetic intermediates in amyloid assembly. Journal of the American Chemical Society 136, no. 43 (October 2014): 15146-15149. 10.1021/ja508621b
Citation Information
Chen Liang, Rong Ni, Jillian E. Smith-Carpenter, W. Seth Childers, et al.. "Kinetic intermediates in amyloid assembly"
Journal of the American Chemical Society
Vol. 136 Iss. 43 (2014)
Available at: http://works.bepress.com/jillian-smith-carpenter/1/