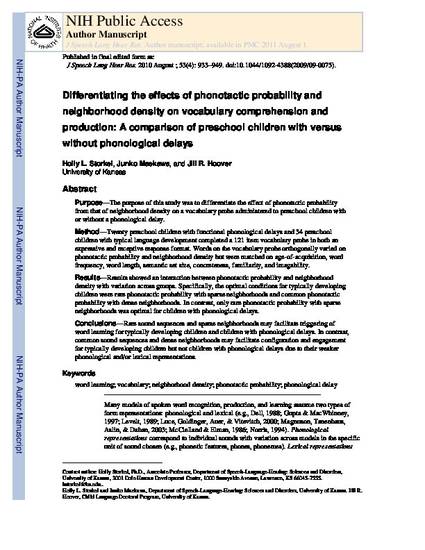 Unpublished Paper
Differentiating the Effects of Phonotactic Probability and Neighborhood Density on Vocabulary Comprehension and Production: A Comparison of Preschool Children With Versus Without Phonological Delays
Journal of Speech, Language, and Hearing Research (2010)
Abstract
The purpose of this study was to differentiate the effect of phonotactic probability from that of neighborhood density on a vocabulary probe administered to preschool children with or without a phonological delay.
Citation Information
Holly L. Storkel, Junko Maekawa and Jill R. Hoover. "Differentiating the Effects of Phonotactic Probability and Neighborhood Density on Vocabulary Comprehension and Production: A Comparison of Preschool Children With Versus Without Phonological Delays"
Journal of Speech, Language, and Hearing Research
(2010)
Available at: http://works.bepress.com/jill_hoover/3/