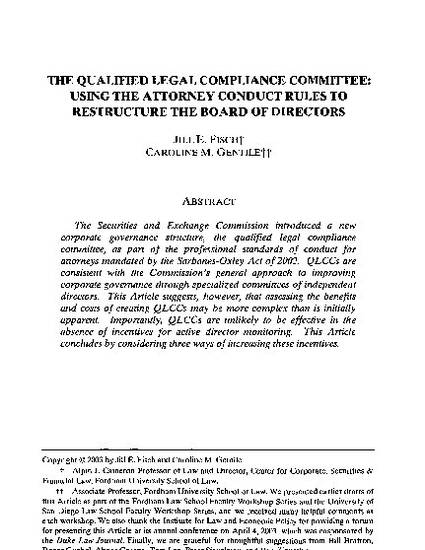 Article
Qualified Legal Compliance Committee: Using the Attorney Conduct Rules to Restructure the Board of Directors, The Thirty-Third Annual Administrative Law Issue Agencies, Economic Justice, and Private Initiatives
Duke L.J.
Publication Title
Duke Law Journal
Abstract
The Securities and Exchange Commission introduced a new corporate governance structure, the qualified legal compliance committee, as part of the professional standards of conduct for attorneys mandated by the Sarbanes-Oxley Act of 2002. QLCCs are consistent with the Commission's general approach to improving corporate governance through specialized committees of independent directors. This Article suggests, however, that assessing the benefits and costs of creating QLCCs may be more complex than is initially apparent. Importantly, QLCCs are unlikely to be effective in the absence of incentives for active director monitoring. This Article concludes by considering three ways of increasing these incentives.
Citation Information
Jill E. Fisch and Caroline M. Gentile. "Qualified Legal Compliance Committee: Using the Attorney Conduct Rules to Restructure the Board of Directors, The Thirty-Third Annual Administrative Law Issue Agencies, Economic Justice, and Private Initiatives"
Duke L.J.
Vol. 53 (2003) p. 517
Available at: http://works.bepress.com/jill_fisch/46/