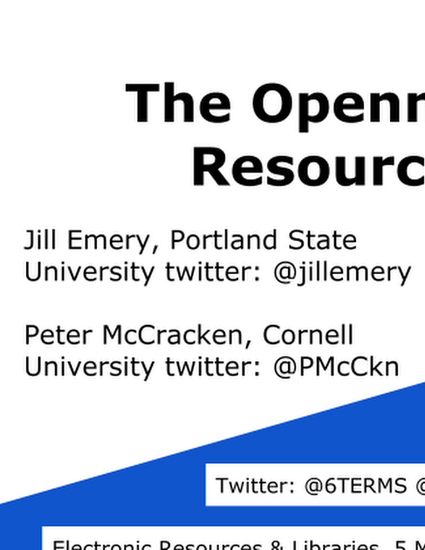 Presentation
The Openness of Electronic Resource Management
Electronic Resources & Libraries (2019)
Abstract
Open Access content is a growing part of the overall scholarly literature. In many places, this work has been separated out from technical services into digital scholarship teams. This session is designed to show how to incorporate open access management into the framework most research libraries use for subscription and one-time purchase electronic resource management. In particular, the focus will be mapping workflow for open access management alongside those aspects of electronic resource management most are familiar with: selection, acquisition, implementation, evaluation, troubleshooting, and preservation. Ideas will be discussed in the session at large for feedback and input. At the end of the hour and a half, participants should gain a sense of how the work of open access management can be combined with electronic resource management.
Publication Date
March 5, 2019
Citation Information
Jill Emery and Peter H. McCracken. "The Openness of Electronic Resource Management"
Electronic Resources & Libraries
(2019)
Available at: http://works.bepress.com/jill_emery/111/
Creative Commons License
This work is licensed under a Creative Commons CC_BY-NC International License.