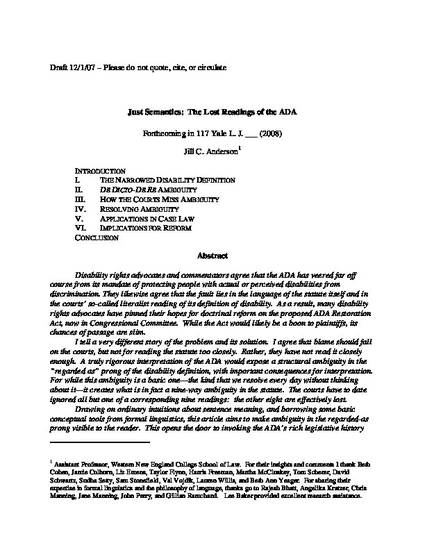 Unpublished Paper
Just Semantics: The Lost Readings of the ADA
forthcoming in 117 Yale L.J. ___ (2008) (2008)
Abstract
Just Semantics: The Lost Readings of the ADA
Jill C. Anderson
INTRODUCTION
I. THE NARROWED DISABILITY DEFINITION
II. DE DICTO-DE RE AMBIGUITY
III. HOW THE COURTS MISS AMBIGUITY
IV. RESOLVING AMBIGUITY
V. APPLICATIONS IN CASE LAW
VI. IMPLICATIONS FOR REFORM
CONCLUSION
Abstract
Disability rights advocates and commentators agree that the ADA has veered far off course from its mandate of protecting people with disabilities---actual or perceived---from discrimination. They likewise agree that the fault lies in the language of the statute itself and in the courts' "literalist" reading of its definition of disability. As a result, many disability rights advocates have pinned their hopes for doctrinal reform on the proposed ADA Restoration Act, now in Congressional Committee. While the Act would certainly be a boon to plaintiffs, its chances of passage are slim.
I tell a very different story of the problem and its solution. I argue that blame should fall on the courts, but not for reading the statute too closely. Rather, they have not read it closely enough. A truly rigorous interpretation of the ADA would expose a structural ambiguity in the "regarded as" prong of the disability definition, with important consequences for interpretation. For while this ambiguity is a basic one---the kind that we resolve every day without thinking about it—it creates what is in fact a nine-way ambiguity in the statute. Strikingly, the courts have to date ignored all but one of a corresponding nine readings: the other eight are effectively "lost."
Drawing on ordinary intuitions about sentence meaning, and borrowing some basic conceptual tools from formal linguistics, this article aims to make ambiguity in the regarded-as prong visible to the reader. This opens the door to invoking the ADA's rich legislative history for the purpose of resolving the ambiguity. Such history favors a broad reading of the statute and would mark a departure from an era of increasingly narrow interpretation of the ADA's disability definition. Thus, while it may be a surprising alliance to consider, formal linguistic rigor in the hands of civil rights advocates holds the potential to realign ADA jurisprudence with the statute's purpose.
Keywords
disability,
ADA,
linguistics,
interpretation,
employment,
antidiscrimination
Citation Information
Jill C. Anderson. "Just Semantics: The Lost Readings of the ADA"
forthcoming in 117 Yale L.J. ___ (2008)
(2008)
Available at: http://works.bepress.com/jill_anderson/1/