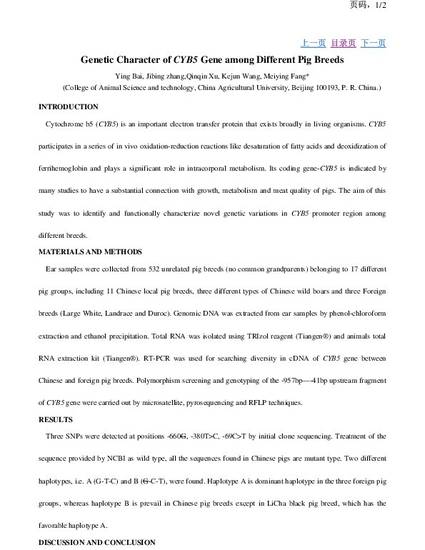 Presentation
Genetic Character of CYB5 Gene among Different Pig Breeds.pdf
National Animal Breeding and Genetics Symposium XVII (2013)
Abstract
Three single nucleotide polymorphisms (SNPs) at -660bp (deletion of a single guanine base), -380bp (T>C), -69bp (C>T) were identified by sequencing cDNA of CYB5 genes in different Chinese and Foreign pigs. After subsequent detection using microsatellite, pyrosequencing and restriction fragment length polymorphism (RFLP) techniques in large populations of different pig breeds, we found that the mutations in all the SNP sites were favorable in Chinese pigs except LiCha black pigs which were crossed with Landrace pigs before, whereas the wild type nucleotides were favorable in Foreign pigs including Large White, Landrace and Duroc pigs. Therefore, we conclude that these SNPs in the promoter region of porcine CYB5 gene can be a potential genetic markers for identification of foreign and Chinese pig breeds.
Keywords
Pig,
CYB5 gene,
genetic variation
Publication Date
October 27, 2013
Citation Information
Ying Bai, Jibin Zhang and Meiying Fang. "Genetic Character of CYB5 Gene among Different Pig Breeds.pdf"
National Animal Breeding and Genetics Symposium XVII
(2013)
Available at: http://works.bepress.com/jibin-zhang/6/