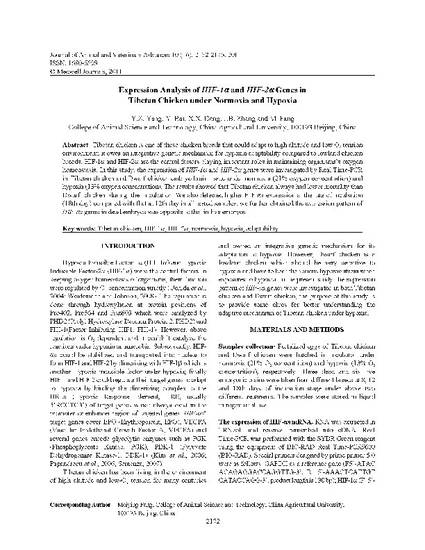 Article
Expression Analysis of HIF-1a and HIF-2a genes in Tibetan Chicken under Normoxia and Hypoxia.pdf
Journal of Animal and Veterinary Advances (2011)
Abstract
Tibetan chicken is one of those chicken breeds that could adapt to high altitude and low oxygen pressure environment; it owes to an integrative genetic mechanism for hypoxia adaptability compared to lowland chicken breeds. HIF-1α and HIF-2α are the central factors playing important roles in maintaining organisms's oxygen homeostasis. In this study, the expression of HIF-1α and HIF-2α genes were investigated by Real Time-PCR in Tibetan chicken and Dwarf chicken embryo brain tissue under normoxia (21% oxygen concentration) and hypoxia (13% oxygen concentration). The results showed that Tibetan chicken always had lower mortality than Dwarf chicken during the incubation. We also detected higher HIF-αs expression at the late of incubation (18th day) compared with that at 12th day in all tested samples; we further found that the expression pattern of HIF-αs genes in dead embryos was opposite to that in live embryos.
Keywords
Tibetan Chicken,
HIF-1alpha,
HIF-2alpha,
normoxia,
hypoxia,
adaptability
Publication Date
Winter December 1, 2011
DOI
http://dx.doi.org/10.3923/javaa.2011.2172.2175
Citation Information
Yunzhou Yang, Ying Bai, Xinxing Dong, Jibin Zhang, et al.. "Expression Analysis of HIF-1a and HIF-2a genes in Tibetan Chicken under Normoxia and Hypoxia.pdf"
Journal of Animal and Veterinary Advances
Vol. 10 Iss. 16 (2011) p. 2172 - 2175 ISSN: 1680-5593
Available at: http://works.bepress.com/jibin-zhang/5/