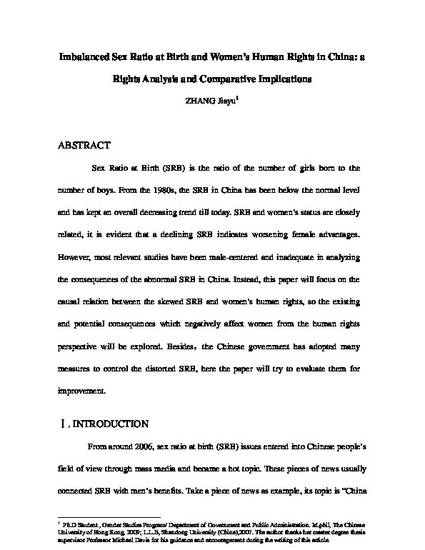 Unpublished Paper
Imbalanced Sex Ratio at Birth and Women's Human Rights in China: a Rights Analysis and Comparative Implications
ExpressO (2010)
Abstract
Sex Ratio at Birth (SRB) is the ratio of the number of girls born to the number of boys. From the 1980s, the SRB in China has been below the normal level and has kept an overall decreasing trend till today. SRB and women's status are closely related, it is evident that a declining SRB indicates worsening female advantages. However, most relevant studies have been male-centered and inadequate in analyzing the consequences of the abnormal SRB in China. Instead, this paper will focus on the causal relation between the skewed SRB and women's human rights, so the existing and potential consequences which negatively affect women from the human rights perspective will be explored. Besides,the Chinese government has adopted many measures to control the distorted SRB, here the paper will try to evaluate them for improvement.
Keywords
Sex ration at birth; human rights
Citation Information
Jiayu Zhang. "Imbalanced Sex Ratio at Birth and Women's Human Rights in China: a Rights Analysis and Comparative Implications"
ExpressO
(2010)
Available at: http://works.bepress.com/jiayu_zhang/1/