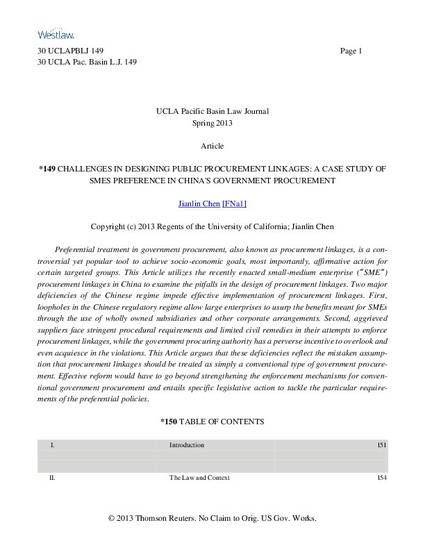 Article
Challenges in Designing Public Procurement Linkages: The Case Study of SMEs Preference in China's Government Procurement
UCLA Pacific Basin Law Journal (2013)
Abstract
Preferential treatment in government procurement, also known as procurement linkages, is a con-troversial yet popular tool to achieve socio-economic goals, most importantly, affirmative action for certain targeted groups. This Article utilizes the recently enacted small-medium enterprise ("SME") procurement linkages in China to examine the pitfalls in the design of procurement linkages. Two major deficiencies of the Chinese regime impede effective implementation of procurement linkages. First, loopholes in the Chinese regulatory regime allow large enterprises to usurp the benefits meant for SMEs through the use of wholly owned subsidiaries and other corporate arrangements. Second, aggrieved suppliers face stringent procedural requirements and limited civil remedies in their attempts to enforce procurement linkages, while the government procuring authority has a perverse incentive to overlook and even acquiesce in the violations. This Article argues that these deficiencies reflect the mistaken assump-tion that procurement linkages should be treated as simply a conventional type of government procure-ment. Effective reform would have to go beyond strengthening the enforcement mechanisms for conven-tional government procurement and entails specific legislative action to tackle the particular require-ments of the preferential policies.
Keywords
government procurement,
China,
procurement linkages,
SME,
affirmative action
Citation Information
Jianlin Chen. "Challenges in Designing Public Procurement Linkages: The Case Study of SMEs Preference in China's Government Procurement"
UCLA Pacific Basin Law Journal
Vol. 30 (2013)
Available at: http://works.bepress.com/jianlin_chen/15/