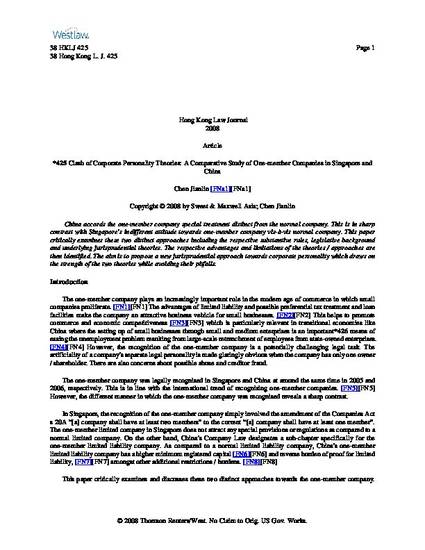 Article
Clash of Corporate Personality Theories: a Comparative Study of One-member Company in China and Singapore
Hong Kong Law Journal (2008)
Abstract
China accords the one-member company special treatment distinct from the normal company. This is in sharp contrast with Singapore's indifferent attitude towards one-member company vis-à-vis normal company. This paper critically examines these two distinct approaches including the respective substantive rules, legislative background and underlying jurisprudential theories. The respective advantages and limitations of the theories / approaches are then identified. The aim is to propose a new jurisprudential approach towards corporate personality which draws on the strength of the two theories while avoiding their pitfalls.
Keywords
One-member Company,
China,
Singapore,
Corporate Personality Theory
Citation Information
Chen Jianlin,
Clash of Corporate Personality Theories: a Comparative Study of One-member Company in China and Singapore
, 38
Hong Kong L. J.
425 (2008). Available at: http://works.bepress.com/jianlin_chen/1