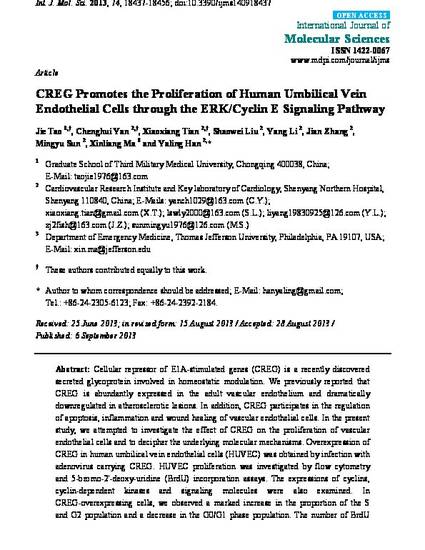 Article
CREG promotes the proliferation of human umbilical vein endothelial cells through the ERK/cyclin E signaling pathway.
Department of Emergency Medicine Faculty Papers
Publication Date
9-6-2013
Abstract
Cellular repressor of E1A-stimulated genes (CREG) is a recently discovered secreted glycoprotein involved in homeostatic modulation. We previously reported that CREG is abundantly expressed in the adult vascular endothelium and dramatically downregulated in atherosclerotic lesions. In addition, CREG participates in the regulation of apoptosis, inflammation and wound healing of vascular endothelial cells. In the present study, we attempted to investigate the effect of CREG on the proliferation of vascular endothelial cells and to decipher the underlying molecular mechanisms. Overexpression of CREG in human umbilical vein endothelial cells (HUVEC) was obtained by infection with adenovirus carrying CREG. HUVEC proliferation was investigated by flow cytometry and 5-bromo-2'-deoxy-uridine (BrdU) incorporation assays. The expressions of cyclins, cyclin-dependent kinases and signaling molecules were also examined. In CREG-overexpressing cells, we observed a marked increase in the proportion of the S and G2 population and a decrease in the G0/G1 phase population. The number of BrdU positively-stained cells also increased, obviously. Furthermore, silencing of CREG expression by specific short hairpin RNA effectively inhibited the proliferation of human umbilical vein endothelial cells (HUVEC). CREG overexpression induced the expression of cyclin E in both protein and mRNA levels to regulate cell cycle progression. Further investigation using inhibitor blocking analysis identified that ERK activation mediated the CREG modulation of the proliferation and cyclin E expression in HUVEC. In addition, blocking vascular endothelial growth factor (VEGF) in CREG-overexpressed HUVEC and supplementation of VEGF in CREG knocked-down HUVEC identified that the pro-proliferative effect of CREG was partially mediated by VEGF-induced ERK/cyclin E activation. These results suggest a novel role of CREG to promote HUVEC proliferation through the ERK/cyclin E signaling pathway.
Citation Information
Jie Tao, Chenghui Yan, Xiaoxiang Tian, Shaowei Liu, et al.. "CREG promotes the proliferation of human umbilical vein endothelial cells through the ERK/cyclin E signaling pathway." (2013)
Available at: http://works.bepress.com/jian_zhang1/71/