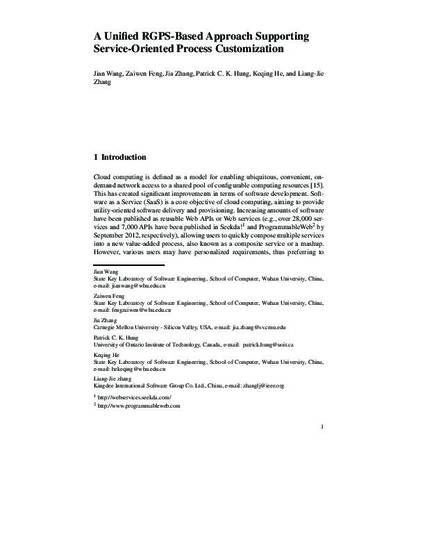 Contribution to Book
A Unified RGPS-Based Approach Supporting Service-Oriented Process Customization
Web Services Foundations (2013)
Abstract
Service-oriented process customization is a key issue in SaaS. In this chapter, based on the RGPS meta-model framework, we propose a service-oriented process customization approach that can help end-users configure a personalized mashup in design time. Corresponding visualization prototypes are introduced, and a case study illustrates how to follow our approach to customize a shipping mashup. Our approach depends on the quality of domain models to a large extent. If users' requirements cannot be satisfied, their unmatched goals will be recorded, which will in turn contribute to the evolution of domain models. So our approach is an iterative method in essence.
Keywords
Business Process,
Service Oriented Computing,
Process Customization
Editor
Athman Bouguettaya and Schahram Dustdar
Publisher
Springer Verlag
Citation Information
Jian Wang, Zaiwen Feng, Jia Zhang, Patrick C,K. Hung, et al.. "A Unified RGPS-Based Approach Supporting Service-Oriented Process Customization"
Web Services Foundations
(2013)
Available at: http://works.bepress.com/jia_zhang/89/