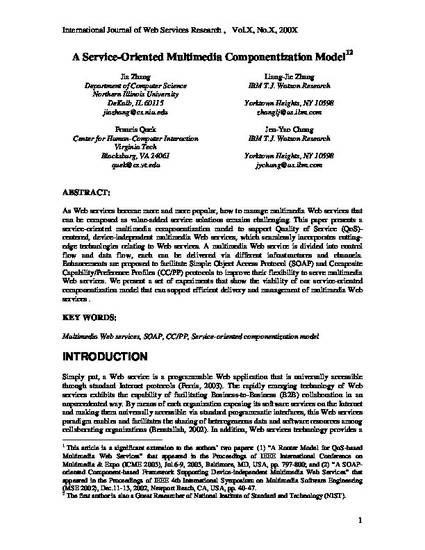 Article
A Service-Oriented Multimedia Componentization Model
International Journal of Web Services Research (JWSR) (2005)
Abstract
As Web services become more and more popular, how to manage multimedia Web services that can be composed as value-added service solutions remains challenging. This paper presents a service-oriented multimedia componentization model to support Quality of Service (QoS)-centered, device-independent multimedia Web services, which seamlessly incorporates cuttingedge technologies relating to Web services. A multimedia Web service is divided into control flow and data flow, each can be delivered via different infrastructures and channels. Enhancements are proposed to facilitate Simple Object Access Protocol (SOAP) and Composite Capability/Preference Profiles (CC/PP) protocols to improve their flexibility to serve multimedia Web services. We present a set of experiments that show the viability of our service-oriented componentization model that can support efficient delivery and management of multimedia Web services.
Keywords
Multimedia Web services,
SOAP,
CC/PP,
Service-oriented componentization model
Publication Date
March, 2005
Citation Information
Jia Zhang, Liang-Jie Zhang, Francis Quek, and Jen-Yao Chung, "A Service-Oriented Multimedia Componentization Model",
International Journal of Web Services Research (JWSR)
, 2(1), Jan.-Mar. 2005, pp. 54-76.