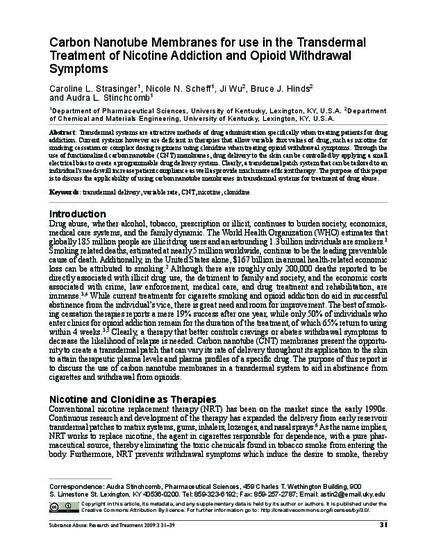 Article
Carbon Nanotube Membranes for Use in the Transdermal Treatment of Nicotine Addiction and Opioid Withdrawal Symptoms
Substance Abuse: Research and Treatment (2009)
Abstract
Transdermal systems are attractive methods of drug administration specifically when treating patients for drug addiction. Current systems however are deficient in therapies that allow variable flux values of drug, such as nicotine for smoking cessation or complex dosing regimens using clonidine when treating opioid withdrawal symptoms. Through the use of functionalized carbon nanotube (CNT) membranes, drug delivery to the skin can be controlled by applying a small electrical bias to create a programmable drug delivery system. Clearly, a transdermal patch system that can be tailored to an individual's needs will increase patient compliance as well as provide much more efficient therapy. The purpose of this paper is to discuss the applicability of using carbon nanotube membranes in transdermal systems for treatment of drug abuse.
Keywords
Transdermal delivery,
Variable rate,
CNT,
Nicotine,
Clonidine
Citation Information
Ji Wu, Caroline L. Strasinger, Nicole N. Scheff, Audra L. Stinchcomb, and Bruce J. Hinds. "Carbon Nanotube Membranes for Use in the Transdermal Treatment of Nicotine Addiction and Opioid Withdrawal Symptoms"
Substance Abuse: Research and Treatment
3 (2009): 31-39. source: http://www.la-press.com/article.php?article_id=1357
Available at: http://works.bepress.com/ji_wu/28