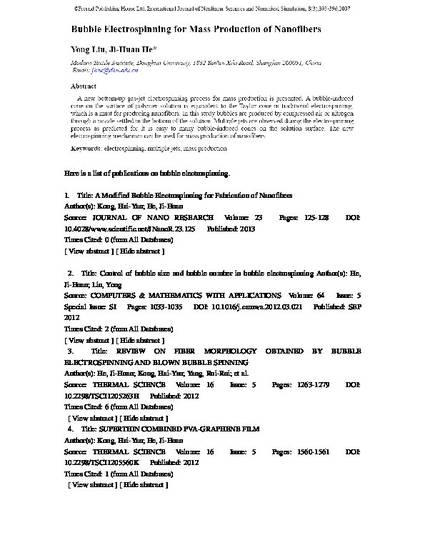 Article
Bubble electrospinning for mass production of nanofibers
INTERNATIONAL JOURNAL OF NONLINEAR SCIENCES AND NUMERICAL SIMULATION (2007)
Abstract
A new bottom-up gas-jet electrospinning process for mass production is presented. A bubble-induced cone on the surface of polymer solution is equivalent to the Taylor cone in traditional electrospinning, which is a must for producing nanofibers. In this study bubbles are produced by compressed air or nitrogen through a nozzle settled in the bottom of the solution. Multiple jets are observed during the electrospinning process as predicted for it is easy to many bubble-induced cones on the solution surface. The new electrospinning mechanism can be used for mass production of nanofibers.
Keywords
electrospinning; multiple jets; mass production
Citation Information
Yong LIu and Ji-Huan He. "Bubble electrospinning for mass production of nanofibers"
INTERNATIONAL JOURNAL OF NONLINEAR SCIENCES AND NUMERICAL SIMULATION
Vol. 8 (2007)
Available at: http://works.bepress.com/ji_huan_he/5/