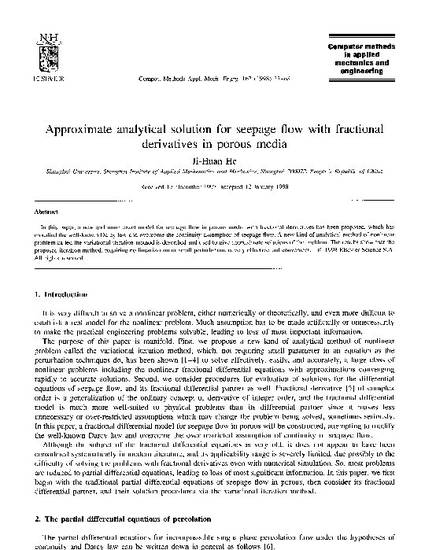 Article
Approximate analytical solution for seepage flow with fractional derivatives in porous media
Computer Methods in Applied Mechanics and Engineering, Volume 167, Issues 1-2, 1 December 1998, Pages 57-68 (1998)
Abstract
In this paper, a new and more exact model for seepage flow in porous media with fractional derivatives has been proposed, which has modified the well-known Darcy law and overcome the continuity assumption of seepage flow. A new kind of analytical method of nonlinear problem called the variational iteration method is described and used to give approximate solutions of the problem. The results show that the proposed iteration method, requiring no linearization or small perturbation, is very effective and convenient.
Keywords
variational iteration method,
fractional differential equation
Citation Information
Ji-Huan He. "Approximate analytical solution for seepage flow with fractional derivatives in porous media"
Computer Methods in Applied Mechanics and Engineering, Volume 167, Issues 1-2, 1 December 1998, Pages 57-68
(1998)
Available at: http://works.bepress.com/ji_huan_he/34/