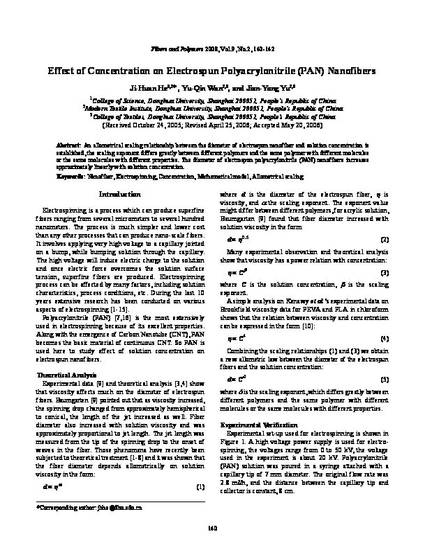 Article
Effect of Concentration on Electrospun Polyacrylonitrile (PAN) Nanofibers
Fibers and Polymers 2008, Vol.9, No.2, 140-142 (2008)
Abstract
Abstract: An allometrical scaling relationship between the diameter of electrospun nanofiber and solution concentration is established, the scaling exponent differs greatly between different polymers and the same polymer with different molecules or the same molecules with different properties. The diameter of electrospun polyacrylonitrile (PAN) nanofibers increases approximately linearly with solution concentration.
Keywords
Nanofiber,
Electrospinning,
Concentration,
Mathematical model,
Allometrical scaling
Citation Information
Ji-Huan He, Yu-Qin Wan and Jian-Yong yu. "Effect of Concentration on Electrospun Polyacrylonitrile (PAN) Nanofibers"
Fibers and Polymers 2008, Vol.9, No.2, 140-142
(2008)
Available at: http://works.bepress.com/ji_huan_he/29/